Coping
Pool coping is the material above the tile line that generally covers the top of the pool structure. The pool coping is used to separate the pool structure from the pooldecking. Coping provides an opportunity for a decorative accent, which can greatly enhance the appearance of the pool.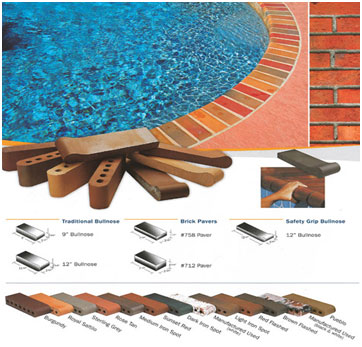 Tile
One of the most visually striking parts of a pool are the swimming pool tiles. They provide an aesthetic as well as functional element. Choosing the right pool tile is essential to your renovation project. Tiled surfaces, both in and around the pool, can provide a clean, contemporary look, in addition to lasting quality. The three main types of tile for pool finishes include glass tile, natural stone tile, and ceramic or porcelain tile.From stunning glass, to subtle earth tones; from a simple waterline, to a raised spa wall, your tile is a focal point of your pool renovation.

Mosaics
Mosaics offers many different ways to express your artistic side when it comes to your swimming pool.
We offer a variety of mosaic designs to enhance the visual appeal of your newly remodeled pool.