Pool Equipment
Automation
Pool Automation Gives You Total Control - How would you like to sit back, relax and put your pool on cruise control? With an automated control system, scheduling and operating your filtration cycles, heating, pool and landscape lighting, sanitization, water features and more become blissfully automatic.
Automated control systems have seen rapid growth in recent years, both in technology and use. The technology and programming flexibility ensure equipment runs at peak efficiency for minimum energy usage and cost. Their versatile programming also allows users to run equipment during off-peak times and schedule multiple shorter cycles rather than one long cycle for further savings. System add-ons like the ScreenLogic2® Interface for the IntelliTouch® or EasyTouch® Automation Systems give you the ultimate in streamlined control and monitoring. You're able to access and control your system from a smartphone, tablet or computer… anywhere and anytime..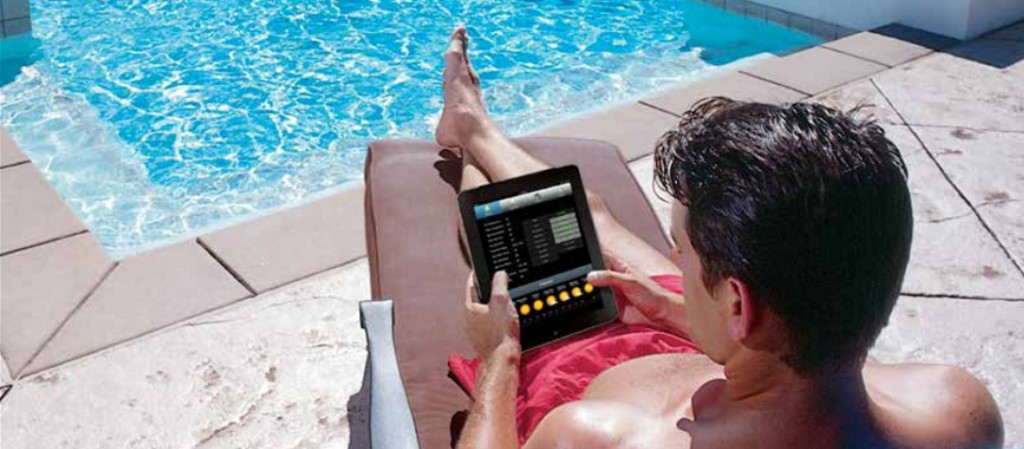 PENTAIR POOL and SPA LED LIGHTS
Why lighting products and systems from Pentair? Because it's the brand of choice for the vast majority of pool professionals and pool owners worldwide for more than 40 years. In fact, a recent survey of more than 400 pool builders, retailers and service companies, found 72% recommend Pentair lighting products most often. And that's because they've found the innovations, quality, reliability, energy efficiency and value they demand is delivered by these standards in the industry.

LED Color Lighting is a Breakthroughin Drama and Versatility
IntelliBrite®* automated color-changing pool and spa lights feature LED technology – the wave of the future in energy-efficiency, lifetime value, quality of light, and the ability to control it.
Put a virtually endless range of dramatic underwater lighting effects at your command. Choose from one of five predetermined fixed colors, or seven pre-programmed "color shows" to build energy and excitement into your evening.
Enjoy the even distribution of the brightest LED light on the market made possible by a custom reflector and superior lens geometry designed to eliminate glare and "hot spots" on the pool bottom.
A superior reflector design assures more light is directed toward the pool bottom to further increase intensity and color effects, while minimizing glare.
IntelliBrite is controlled digitally to enable a greater number of standard light programs and a greater ability to create your personal, magical light shows.
Only IntelliBrite was designed to work with IntelliTouch, ® the leading control system for pool, spa and poolscape equipment automation. In effect, you transfer programming and control of IntelliBrite to the central system that controls all your other backyard and pool features.

POOL CLEANERS
A necessary counterpart to your in-ground pool's filtration system is a quality pool vacuum cleaner. Much like your indoor vacuum, an in-ground pool vacuum gives greater attention to surface areas and provides a deeper, more complete cleanse. Insects, twigs, leaves, you name it - any pool debris that doesn't quite make it to the filter will be picked up by the pool vacuum, which leaves nothing but a polished and tidy pool surface behind.
Suction Cleaners - Connected to the skimmer or dedicated vacuum line, they are powered by suction from your filter pump, and vacuum debris into the pump basket. Most suction cleaners require at least a ¾ hp pump, and work best with a 1 or 1.5hp pump.


PROS: Cheap to buy, easy to install, inexpensive to repair.


CONS: Brings debris/dirt into the pump/filter, may clog easily, no skimming while cleaning.

Pressure Cleaners: Low-flow pressure cleaners connect to a wall return fitting and operate by pressure from your filter pump. Hi-Flo pressure cleaners use a booster pump on a timeclock, and a dedicated cleaner line, for a truly automatic and independent system that captures debris in its own bag.

PROS: Independent of the filter system, turns itself on/off daily, most effective cleaning.

CONS: Expensive to buy, complicated to install, energy costs to operate booster pump.

Robotic Cleaners: Operate by low voltage power from a pool-side power box, plugged into a GFCI outlet near the pool. A floating cord powers a drive motor and vacuum motor, to move around the pool and vacuum debris into an onboard filter bag or cartridge. Completely independent from the filter system, robot cleaners have fast and complete coverage and programmable cleaning cycles.

PROS: Independent of the filter system, filters water as it cleans, plug and play installation.

CONS: Some models can be expensive to buy, and costly and complicated to repair.

FILTERS
Pool filters are a crucial part of the maintenance system for swimming pools. In order to keep the water clean and sanitized for swimmers, a pool owner must make sure that the filter system is working properly and take care to maintain it.
FILTER TYPES
Cartridge Filters are energy efficient, cost effective, and readily available. They consist of a filter cartridge which sits in a tank smaller than that of a sand filter and filters water through the large surface area of the filter. The cartridge's clarity lands in the middle, filtering down to 5 microns which are picked up through the paper-like material within the cartridge. Because the filter has a large surface area it creates the least resistance and works the best under lower speeds. The cartridge filter can be taken out and sprayed down with a hose for cleaning and doesn't require backwashing.
Pros: no backwashing, filters good at lower speeds for energy efficiency, greater surface area, traps particles as small as 5-10 microns, saves water, most economical, cartridges are readily available and affordable
Cons: more maintenance than sand filters, cartridges need to be replaced more often, have to clean the filter cartridges once or twice a season.
D.E. or Diatomaceous Earth Filters use mined fossilized exoskeletons of tiny diatoms to filter out particles. The D.E. Filter consists of a tank with a grids inside coated with D.E. Powder. The D.E. Powder acts like sand catching particles but on a much smaller scale. It catches particles as small as 3 microns, giving the clearest water out of the three filters, but not without a higher price. The D.E. Filters have a little pricier upkeep than Sand or Cartridge Filters, requiring you to replace D.E. Powder every time you have to backwash the filter. You can do this easily by adding D.E. Powder to your skimmer but you will have to give the filter a thorough cleaning once a year.
Pros: filters particles as small as 5-10 microns, D.E. can be added through your skimmer
Cons: higher maintenance costs, costly, D.E. powder is carcinogenic in powder form, filter Grids need to be cleaned once a year, higher resistance than cartridge filters, some local codes can restrict backwashing.
Sand filters are exactly what they sound like. Sand Filters consist of large tanks filled with sand. The water gets pushed through the sand which filters out any contaminants before they end up in your pool, thus clarifying your water. Sand Filters remove particles as low as 20 microns which become caught within the grains of sand. Eventually the particles will block more and more water, raising the pressure in the filter. This will cause your filtration system to backwash or flush out the system by reversing the water throughout the filter.
Pros: easy maintenance, cheap to replace, sand lasts 7 years
Cons: requires backwashing (almost weekly), wastes water through backwashing, filters down to 20-25 microns, creates the most pressure, making it less energy efficient, some local codes can restrict backwashing